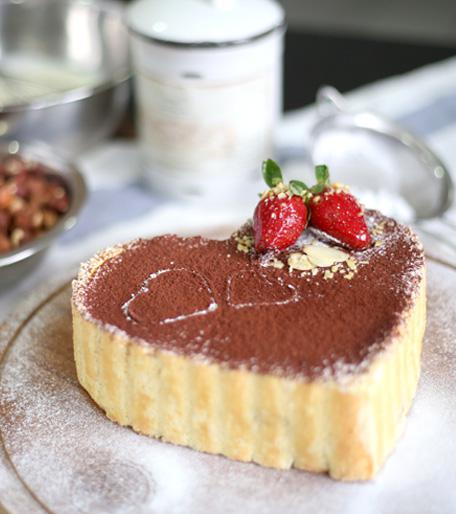 Prochiz used:
Ingredients:
Lady Finger:
2 egg whites
43 gr sugar
2 egg yolks
27 gr cake flour
Tiramisu Cream:
8 gr gelatine
110 ml water
70 gr sugar
5 egg yolks
190 gr Prochiz Spready
230 gr whipped cream
Directions:
Whisk egg white and sugar until whipped, set aside. Whisk yolk and white egg slowly then add cake flour.
Pour the dough into tray and baked in temperature 185 celcius about for 10 minutes.
Soak the gelatine into water, set aside. Boil water and sugar, then whisk yolk and pour sugar water. Add prochiz spready and mix all. Add whipped cream and gelatine, mix all until blended.
Prepared the ring mould (heart shape), set the lady finger arround the mould. Put the lady finger at bottom of the mould and pour little bit with coffee syrup. Add tiramisu cream until half of the mould. Repeat the process until the mould is full. Refrigerate before serving and removed take out from the mould. and dusting with chocolate powder on the top of the cake.